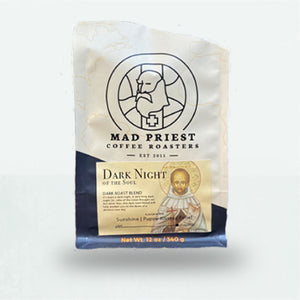 Roaster Notes: 
This delicious darker roasted coffee is a 50/50 blend of rotating Latin American coffees sourced through Caravela Coffee Importers.
While the coffees in this blend change frequently due to sourcing similar coffees from the freshest harvest, there's always a consistent balance of sweet and nutty with a medium to heavy body.
Dark Night is roasted to just after the start of second crack giving this "dark" roast all the roasty toasty lovelies while maintaining sweetness.

Weight: 12.0 oz
Roast Profile:
Dark Roast
Tasting Notes:
Sunshine, puppy kisses, and relief