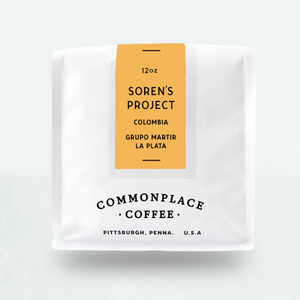 Roaster Notes: Named after the owners' firstborn, this is our first blend, and like all children, it will grow and change. This blend has evolved into a single-origin offering as we aim to cater to the coffee drinkers of tomorrow and showcase coffee producers and importers who are creating a sustainable future for specialty coffee. This will be our second harvest featuring the community lot of Grupo Mártir. The farming group has demonstrated an ability to challenge the status quo and strive towards a sustainable future for coffee production in their region. Grupo Mártir is comprised of 18 producers, who farm organically or are transitioning to fully organic farming. We want to recognize the risk, effort, and perseverance it takes to change farming practices. Producers risk lower yields and more pests in the hopes of higher quality coffee, minimizing the effects on the environment and themselves, and enriching their farm's biodiversity. This year, Grupo Mártir produced one of the highest scoring coffees we have ever brought in from a community lot. With smaller farms, come smaller amounts of coffee, so the tremendous care that it took for each farmer to produce such a high quality community lot is nothing short of incredible.
Region: La Plata, Huila
Elevation: 1700-1850 masl

Weight: 12.0 oz
Roast Profile:
Houseblend
Tasting Notes:
Baking spices with sweet, supporting body.